AI PCs are generating a lot of interest in the business world, despite the fact that the specific use cases haven't been fully defined, according to IDC. There's a lot of hype around generative AI since the release of ChatGPT, and now major software and hardware brands are trying to incorporate the technology into every aspect of their products.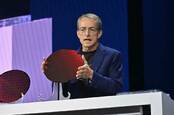 Intel just had an aha moment: AI PCs. Let's sell 'em AI PCs!
READ MORE
Last week, HP and Lenovo announced that they are working on a range of AI PCs to be released between July 2022 and early 2025. While they didn't provide much technical detail about the machines, it's clear that they see potential in this area.
Linn Huang, IDC research veep for Devices & Displays, expressed excitement about generative AI, stating that it could be a game-changer for the PC industry. He believes that AI PCs offer organizations the ability to personalize the user experience on a deeper level while still maintaining data privacy and sovereignty.
That's a pretty bold statement. HP and Lenovo clearly see the profit potential in AI PCs, and Huang agrees. He expects that as more of these devices hit the market next year, it will lead to an increase in overall selling prices.
The PC industry has been struggling, with nine consecutive quarters of declining shipments. In Q3 of this year, there was a year-on-year drop of 7.6 percent to 68.2 million units, according to IDC. The only top five player to experience growth was HP, with over 6 percent growth and 13.5 million PC shipments. On the other hand, Apple saw the biggest decline, down over 23 percent to 7.2 million Macs. Dell also saw a decline of 14.3 percent to 10.3 million shipments.
IDC predicts that the PC industry will continue to face challenges before things start to improve. However, they are hopeful that the migration to Windows 11, a general refresh cycle for devices purchased during the pandemic, and the integration of generative AI will provide a much-needed boost. Gartner also reported a decline of 9 percent in the PC market in Q3, but they believe that the decline has finally hit rock bottom.
Mikako Kitagawa, director analyst at Gartner, mentioned that while the decline in the PC market has slowed down, enterprise PC demand remains weak, offsetting some of the growth driven by the education sector. She also stated that PC inventories in the supply chain are expected to reach normal levels by the end of the year, as long as holiday sales don't take a nosedive.