Hey folks, buckle up because we have some fascinating news coming your way. According to a report from Forrester, generative AI is set to shake things up in the job market. Brace yourselves, because it's predicted to replace a whopping 2.4 million jobs in the US by 2030. But wait, there's more. It's not just about replacing jobs; it's also going to influence another eleven million. That's a whole lot of job reshaping going on!
Now, here's the kicker. The report also has a section titled "Let's Be Clear: Generative AI Is Coming After White Collar Jobs." So, if you're a technical writer, social science research assistant, proofreader, copywriter, or hold an administrative position, you may want to pay attention. These white collar jobs are at higher risk of getting left behind in the wake of the generative AI revolution.
But here's something interesting. The impact of generative AI will hit hardest on those workers who have college degrees, perform white-collar jobs, and fall under the middle class category. If you're earning less than $60,000 annually, you might be less affected by generative AI when compared to those bringing in $90,000 or more. Check out this chart below to get a better idea of how different types of jobs will be influenced.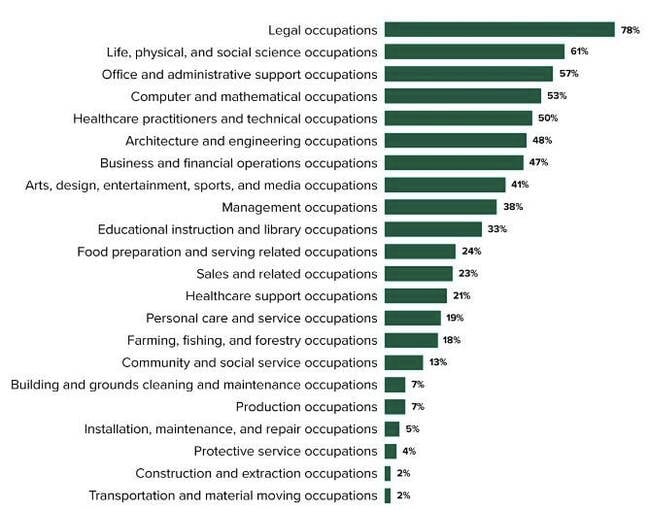 Now, let's address the elephant in the room. The analysts at Forrester suggest that these at-risk workers have a couple of years to prepare for this AI storm. It seems there are certain questions and challenges that need to be sorted out before generative AI takes over completely. We're talking about intellectual property rights, copyright, plagiarism, model refresh rates, model bias, ethics, and model response reliability. Quite the laundry list, isn't it?
But hold on, there's more to the story. While generative AI is expected to cost some jobs, other forms of automation will have an even greater impact. According to the report, generative AI will result in 9.3% of jobs lost to automation by 2023. And get ready for this, by 2030, that number is expected to skyrocket to a whopping 30.4%! Talk about a game-changer.
But let's not get carried away here. The report reminds us that not every job replaced by automation is a job lost to us humans. In fact, there are certain jobs that we'd rather let the machines handle. Take physical robotics and automation, for example. These are filling the gaps in the frontline workforce that have been causing us headaches for years.
But make no mistake, folks. This AI revolution will have its fair share of challenges. Forrester's analysts are warning us about potential social challenges that could arise, much like the ones faced by the post-industrial Rust Belt. We definitely don't want to repeat history, do we?
Hey, creative types!
Now, here's some good news for all you creative folks out there. Forrester's analysts believe that workers in creative industries, like editors, writers, authors, poets, and lyricists, are less likely to be replaced by generative AI. Instead, they're more likely to incorporate generative AI tools into their jobs. So, our creative friends might just have a robot assistant by their side, helping them bring their artistic visions to life.
But wait! Before we get too excited, Forrester has a word of caution for leaders. They need to figure out how to use generative AI in a