IBM Corp. is partnering with Microsoft Corp. to lend its expertise to enterprises that are looking for ways to deploy generative artificial intelligence and improve their business processes.
Today's announcement is focused on IBM Consulting, which now offers a dedicated service for companies trying to get to grips with Microsoft's Azure OpenAI Service on the Azure cloud platform. The new IBM Consulting Azure OpenAI Service offering can be found through the Azure Marketplace.
IBM says it's a fully managed AI service that's focused on helping developers and data scientists use OpenAI LP's powerful large language models to build new kinds of applications. Through the service, developers can access all of OpenAI's LLMs, including the GPT series that powers ChatGPT, and the Codex LLMs.
The service can help companies to define an adoption strategy for generative AI, according to IBM, and then get to work on creating more specific generative AI applications. It added that it has already worked with Microsoft to develop a number of generative AI apps targeted at some very specific use cases.
For example, it has created a procurement and source to pay application that combines Azure Open AI Service with the Microsoft Power platform to automate the manual and fragmented processes around sourcing and procurement. It's all about improving operational efficiency, saving time and creating actionable insights for customers, IBM said.
Another obvious use case IBM is catering to is summarization and content generation, creating applications that can, for example, efficiently process and summarize financial reports.
A third application is targeted at streamlining healthcare processes. IBM Consulting explained how it used Azure OpenAI Service to build a platform that can automatically ingest and analyze medical records and policy documents to automate prior authorization processes. At the same time, it built a virtual assistant for nurses and doctors, to make it easier for them to access patients' healthcare records.
Finally, IBM is offering an enterprise search and knowledge base experience that's designed to cater to company employees. In many organizations, employee information is dispersed and siloed and that makes it difficult for employees to find what they're looking for. So IBM has created a knowledge extraction tool that's able to retrieve requested information from multiple knowledge bases, reducing the need to spend time manually searching.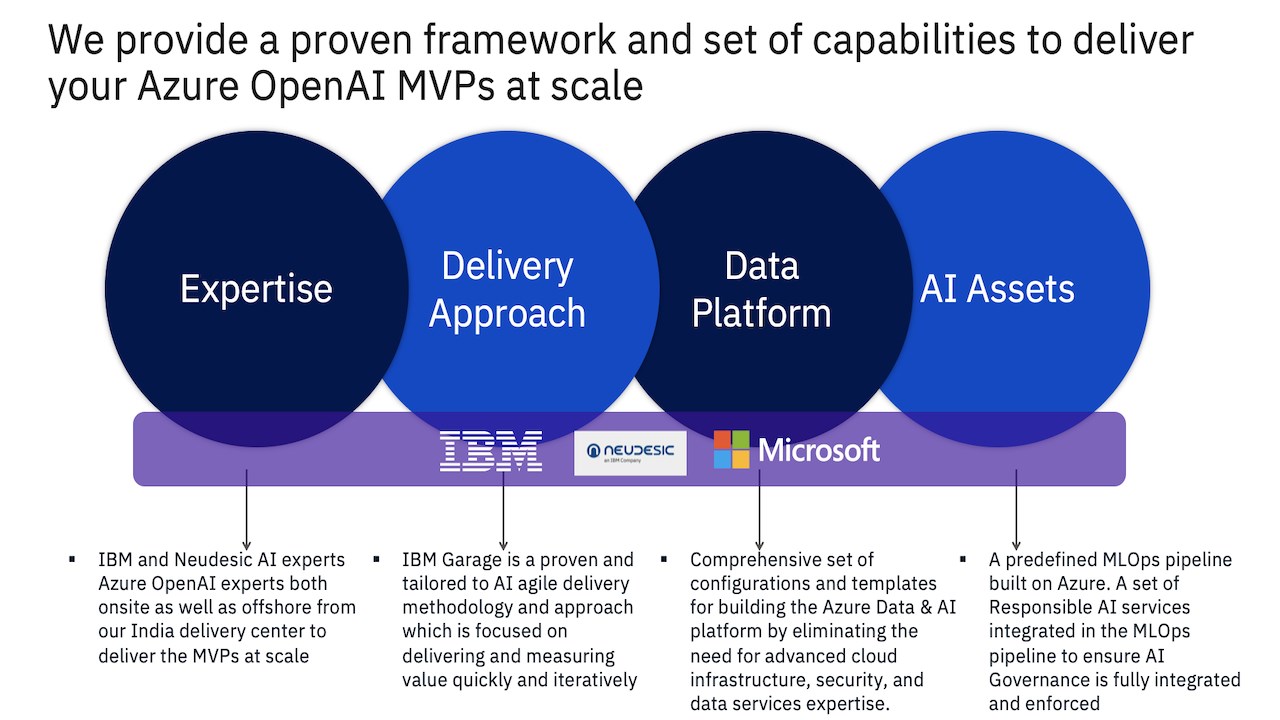 Most companies know all about the potential of generative AI, yet many are struggling to formulate a proper strategy because they don't possess enough expertise on the subject, said analyst Holger Mueller of Constellation Research Inc. As such, IBM's services can be extremely valuable, he said. "IBM brings a lot to the table, including an AI service that helps on the platform side," Mueller explained. "Not only can it help companies to create AI apps and services, but also generate revenue from those projects."
Charles King of Pund-IT Inc. told SiliconANGLE that today's announcement reinforces IBM's support for multicloud partners and their solutions. "IBM and Microsoft work together with thousands of business customers so it makes perfect sense for it to support Microsoft's generative AI offerings and strategy," he said. "What's less obvious is that IBM is one of the industry's most experienced AI-enabled enterprise solutions vendors. It's hard to think of a better company for Microsoft to partner with as it gets its own AI services off the ground."
The launch of the new Azure OpenAI consultancy follows a big investment by IBM Consulting that has focused on training its consultants on the most advanced generative AI platforms. Earlier this year, it announced a new Center of Excellence for generative AI with more than 1,000 consultants ready to provide specialized expertise to help enterprise clients.
In addition to its Center of Excellence, IBM recently announced a new suite of tools called watsonx for developers to get started on building generative AI applications. The watsonx family is distinct from IBM's better-known Watson AI service, which is more focused on analyzing and processing data.
With watsonx, IBM also supports alternative generative AI models such as Meta Platforms Inc.'s open-source LlaMA 2 LLM, meaning that companies are not limited to only using OpenAI's famed models.
Images: IBM
---
Your vote of support is important to us and it helps us keep the content FREE.
One-click below supports our mission to provide free, deep and relevant content.  
Join our community on YouTube
Join the community that includes more than 15,000 #CubeAlumni experts, including Amazon.com CEO Andy Jassy, Dell Technologies founder and CEO Michael Dell, Intel CEO Pat Gelsinger and many more luminaries and experts.
THANK YOU