Skylum has announced the next phase of updates coming to its Luminar Neo software set start release this fall, which includes a bevy of generative Artificial Intelligence (AI) powered tools.
The company says that these next few tool additions will "take creators' editing capabilities to the next level with the introduction of generative AI technologies being integrated into Luminar Neo" as it leans heavily into AI-assisted photo editing for their user base. The intent is to save photographers time which would have been spent on "mundane tasks" so that can now be dedicated to doing more creative things.
"As photography keeps evolving, AI should be seen as an opportunity and not a threat. Think about what makes a photo special – the creative ideas behind it, the personal touch, the experience of taking that image. AI cannot replace any of those things, but it can serve as a powerful assistive tool to expand the realm of photography, making it easier for everyone," Ivan Kutanin, CEO of Skylum, says.
Skylum has listed six new generative AI tools designed to assist creatives and save time when dealing with challenging scene manipulations, removing unwanted objects, or even expanding and generating an existing scene.
Studio Light
Set to be released first, this is a creative tool for portrait photographers that the company says will faithfully replicate lightning effects usually achieved with expensive technical equipment in the studio and breathes new life into older photos.
GenErase
GenErase is billed as a next-generation Erase tool that not only removes unwanted distractions from your images but also replaces those areas using content-aware tools, providing a focused and distraction-free composition. This feature preserves the integrity of photos by intelligently filling in the gaps with textures and other elements to match the surrounding area.
GenErase can also seamlessly remove objects like trash, street signs, vehicles, graffiti, and more.
Neon and Glow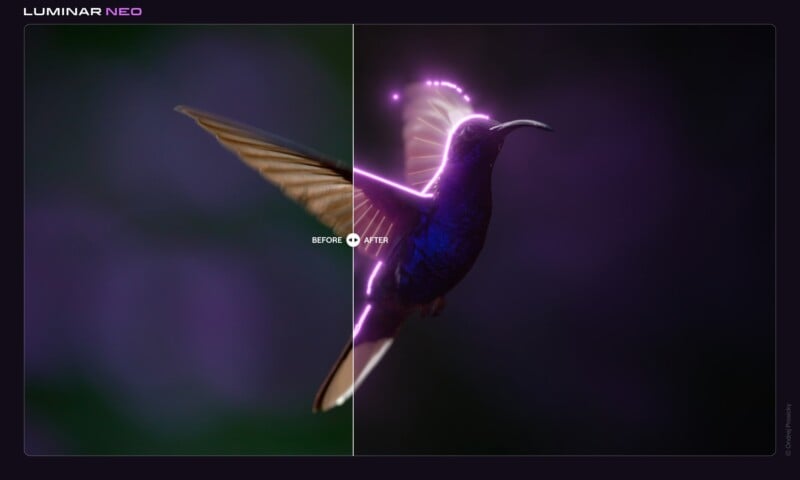 Skylum says that Neon and Glow will allow photographers to overcome challenges such as inadequate lighting conditions and seamlessly blend visually-striking neon elements into the composition.
SceneExpand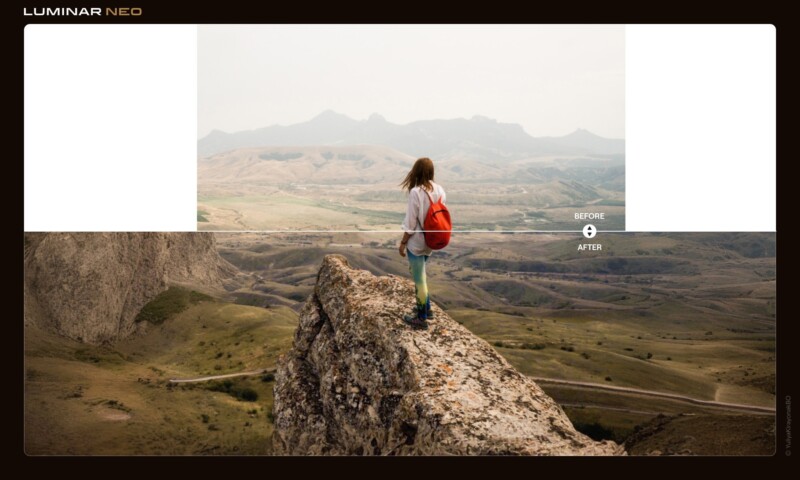 SceneExpand promises to give users the ability to extend the boundaries of their photos, adding a new dimension to original compositions. The feature is billed to work similarly to Adobe's Generative Expand or Generative Fill.
SceneSwap
SceneSwap promises to let users replace specific elements (such as the sky or foreground) with high-quality AI-generated visuals that Skylum claims will blend seamlessly with the rest of the photo.
"Imagine a stunning sunset replacing the dull, overcast sky or crystal-clear azure waters instead of a murky pond in your photos," the company explains.
Water Enhancer
This tool does what it sounds like: enhances water features to give landscape photos greater visual impact.
Other Updates
In addition to the new tools listed above, the company has said it will also be updating the UI of Luminar Neo to improve the design and navigation experience, addressing user interface fatigue and usability issues. Additionally, the company says this update should address the most common challenges users have faced with photo management and general interaction with the app.
The Updates for Luminar Neo (starting with Studio Light) will be available to monthly and annual Pro, Explore, and Ultimate plan subscribers starting in September, with the rest being gradually incorporated over the following months.