The Federal Trade Commission continues to drag its feet on approving Broadcom Inc.'s acquisition of VMware Inc. Ironically, in our view, these delays only hurt the very competitive environment the FTC claims to be protecting.
The artificial intelligence era is accelerating at a breakneck pace and the Big Three hyperscale cloud vendors already have a sizable lead on legacy incumbents. If preserving competition is truly the agenda of the U.S. government, it should recognize that VMware, its enterprise ecosystem and market forces have the potential to neutralize cross-cloud complexity and give customers a viable alternative to increasingly powerful public cloud players.
In this Breaking Analysis and ahead of VMWare Explore 2023, we revisit our views on Broadcom's rationale and likely actions post-acquisition. We'll share current Enterprise Technology Research survey data to place VMware's position in context to the major cloud players, speculate on its AI agenda and give a preview of next week's VMware Explore. To do so, we welcome theCUBE analyst Rob Strechay and a friend of theCUBE, Zeus Kerravala, principal of ZK Research.
Why VMware dovetails with Broadcom's strategy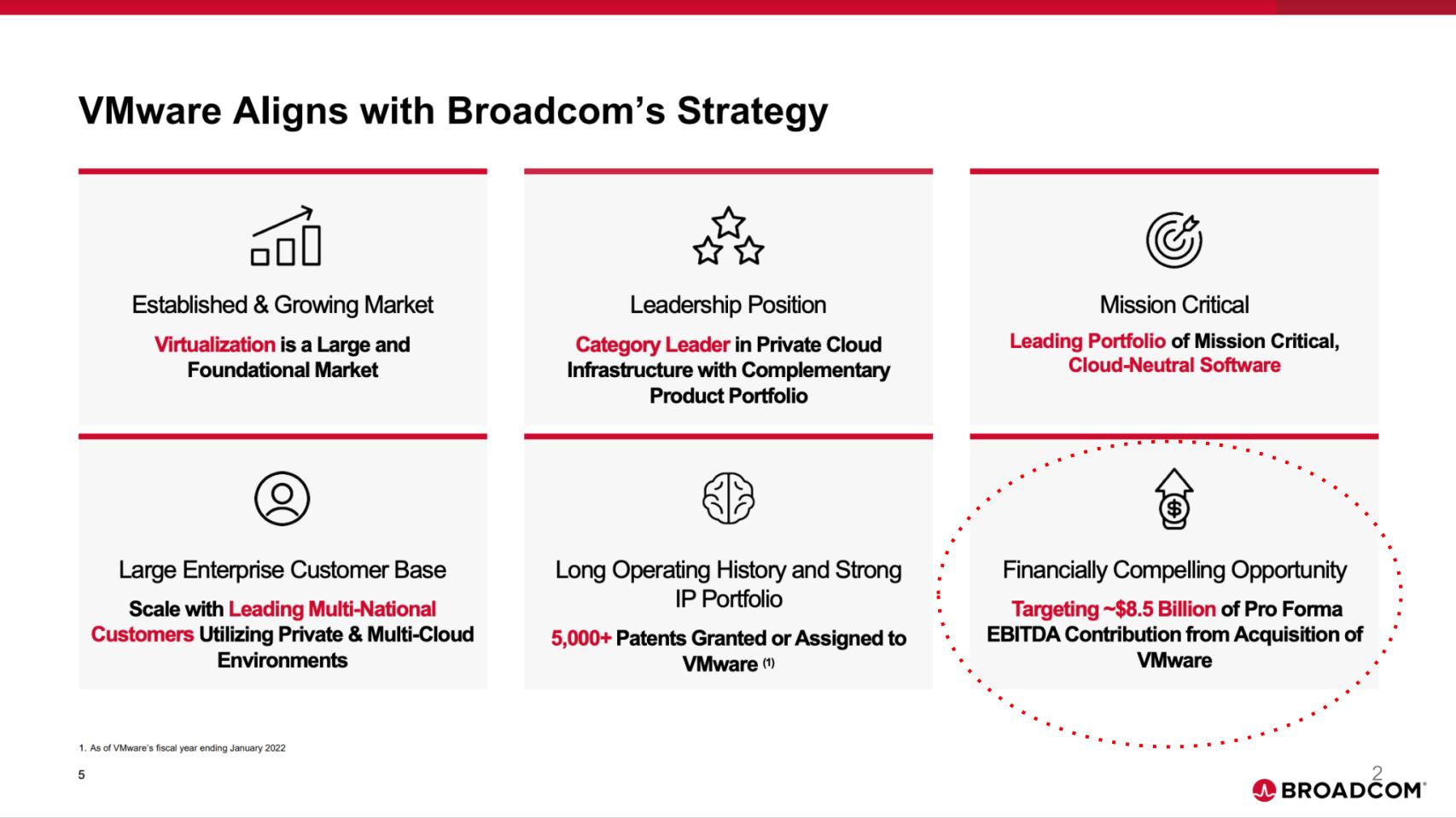 Broadcom has a dizzyingly successful track record of mergers and acquisitions, including LSI, Symantec, Emulex, Computer Associates and dozens of other firms that Chief Executive Hock Tan has orchestrated. As shown in this Broadcom slide above, the company looks for leading firms with a sustainable advantage, loyal installed bases, and proven and predictable operating histories. Broadcom, as shown on the highlighted bottom right corner, is targeting $8.5 billion in EBITDA contribution from VMware post-acquisition.
Unpacking Hock Tan's statements
Some of the things Hock Tan has said about his strategy and the VMware acquisition are shown below.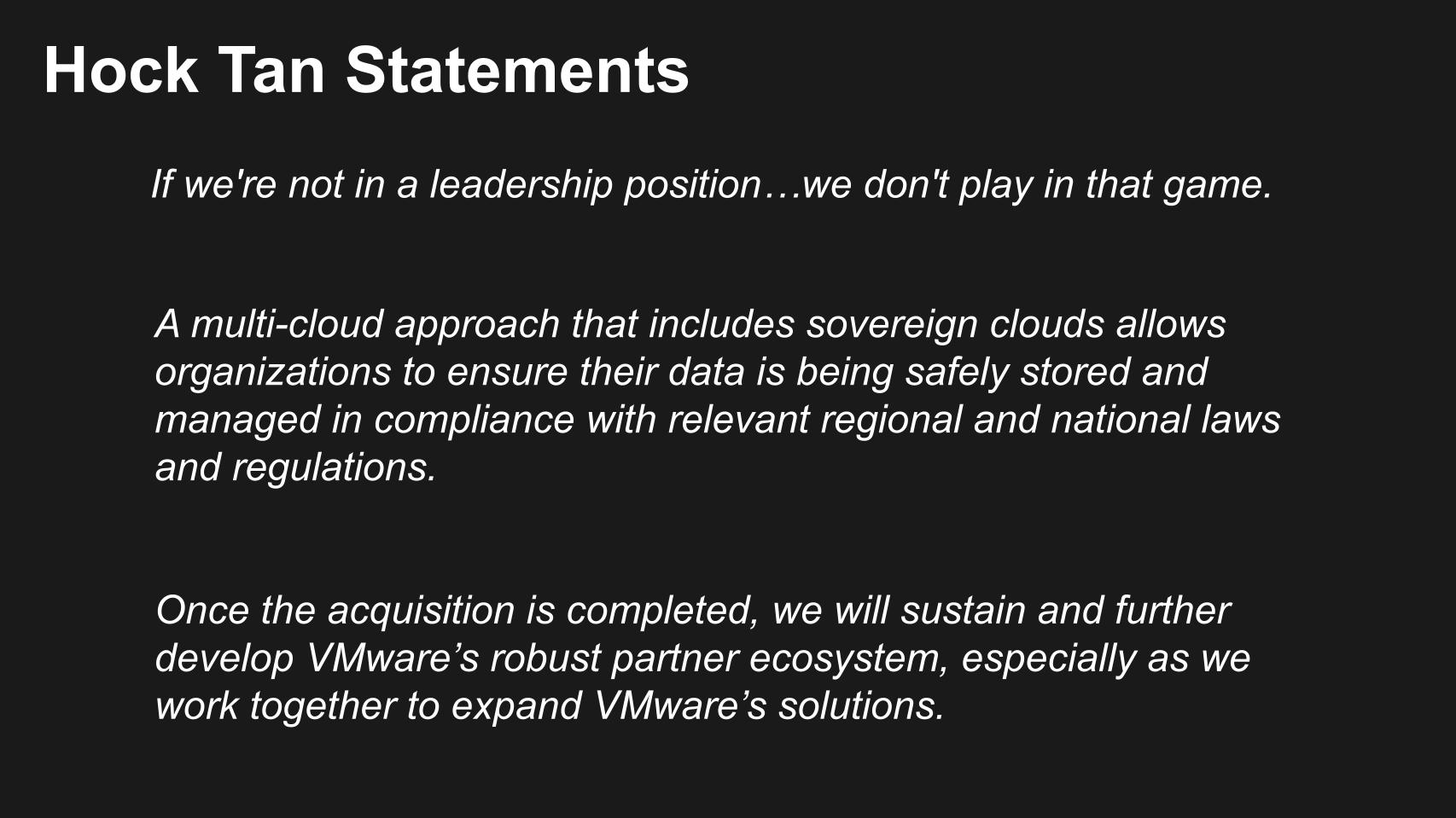 He has said many times, for example that "we don't compete directly in CPUs… essentially we don't play in games we can't win." He has also laid out his premise for VMware — a multicloud approach for customers that absolutely need or want some portion of their data to stay on-premises. Above, he uses the term sovereign cloud, a play off the phrase data sovereignty.
And the last point above recognizes the importance of the ecosystem in extending VMware's value proposition and providing alternatives to the public cloud It's a clear indication Hock Tan understands and values VMware's ecosystem.
There was hope that the VMware deal would close by VMware Explore. Broadcom has said it will close by this fiscal year, which ends in October and perhaps it gets pushed into next fiscal year.
Here's a summary of the analysts' views on the Broadcom acquisition of VMware. The acquisition stands out for several reasons:
Nature of acquisition: VMware isn't just another software company. It's a ubiquitous staple of enterprise information technology, generating substantial revenue. While there are similarities to other Broadcom software acquisitions, like a loyal installed base and a predictable maintenance stream, VMware differs significantly from earlier acquisitions.

Historical comparison: Many previous acquisitions by Broadcom were seen as companies past their prime. This perspective might apply to the virtualization industry, but VMware is poised for another growth wave, particularly with the emergence of multicloud.
Strategic position: We believe VMware is uniquely positioned to attack the complexity across multiple clouds, distinguishing it from Broadcom's other software acquisitions in that it has significant prospects for growth.

Post-acquisition scenario: Broadcom's plan post-acquisition is to integrate its current software business under the VMware umbrella, broadly creating a company with multiple chip design entities and a distinct software business.

Rationalizing software stack: The real opportunity for Broadcom financially lies in consolidating the software stack. Our premise is that once VMware becomes the central software asset, Broadcom will focus its research and development on a roadmap that is attractive to customers and can clearly throw of cash.

Broadcom's investment approach: In our view, Broadcom will narrow VMware's R&D focus. Observing Hock Tan, we believe the following:

Investment strategy: Broadcom's strategy involves identifying companies with a competitive edge or "moat" and fueling them with adequate but focused R&D resources. The aim is to make the business case for customers to stay on its platform more appealing than leaving and incurring switching costs and risk.
Bottom line: The acquisition of VMware by Broadcom signifies a strategic extension of Broadcom's investment approach to add more software acquisitions. We don't believe Broadcom necessarily has a target mix of software and semiconductor revenue, rather it's looking for good businesses that fit its business model. VMware, with its potential for growth and positioning in the multicloud arena, can be a pivotal component for Broadcom's future. The challenge remains in how Broadcom will streamline and optimize its vast software offerings post-acquisition.
Comparing Broadcom's enviable income statement with VMware's
The chart above compares the trailing-12-month revenue and other key metrics for the two companies. For people not familiar with Broadcom, this snapshot is astounding. Broadcom is a $34 billion company with nearly 50% free cash flow margin and only 20,000 employees. Its revenue per employee is an incredible $1.7 million. This financial performance is why the company's market value is an impressive 10 times its revenue.
VMware is a $13 billion company with 38,000 employees. Its revenue per headcount is $350,000, which is actually quite good for a software company. But given Broadcom's pro forma target of $8.5 billion of EBITDA contribution that means to be a positive for Broadcom, VMware's performance will have to blend more closely with Broadcom's financials.
Here's a summary of the analysts' take on VMware and the potential strategies to integrate and optimize the acquired assets.
Broadcom's operating model:

Autonomy: Broadcom's approach will keep VMware as a separate business unit to stand on its own merit. Broadcom rarely if ever allows a business unit to rely on other parts of its business. Rather, it expects a business unit to be independent and perform without assistance from other divisions.

Streamlining headcount: Broadcom will almost certainly reduce headcount. Unlike the typical technology firm which relies on marketing to hype its products, Broadcom is circumspect with its marketing spend.
Customer value: Broadcom could potentially offer VMware customers better deals for expanding their business volume. Spend more and you'll get a better deal.
System approach: There's value in consolidating various VMware assets to offer holistic solutions that attack the complexity of hybrid multiclouds. This integrated approach can simplify deployment and offer more value to the customers.
Bottom line: Broadcom's acquisition of VMware presents a strategic opportunity to leverage VMware's unique position in the emerging multicloud era. Through careful integration, reorganization and a systems approach, Broadcom has the potential to streamline VMware assets and drive value, optimizing VMware's offerings with better focus.
The importance of multicloud to VMware's future
Broadcom has emphasized phase 3 of VMware's growth as multicloud and a platform for applications. The slide below was created before the AI craze, so there may or may not be some marketing adjustments to Broadcom's positioning. Regardless, we know VMware is betting on solving multicloud chaos.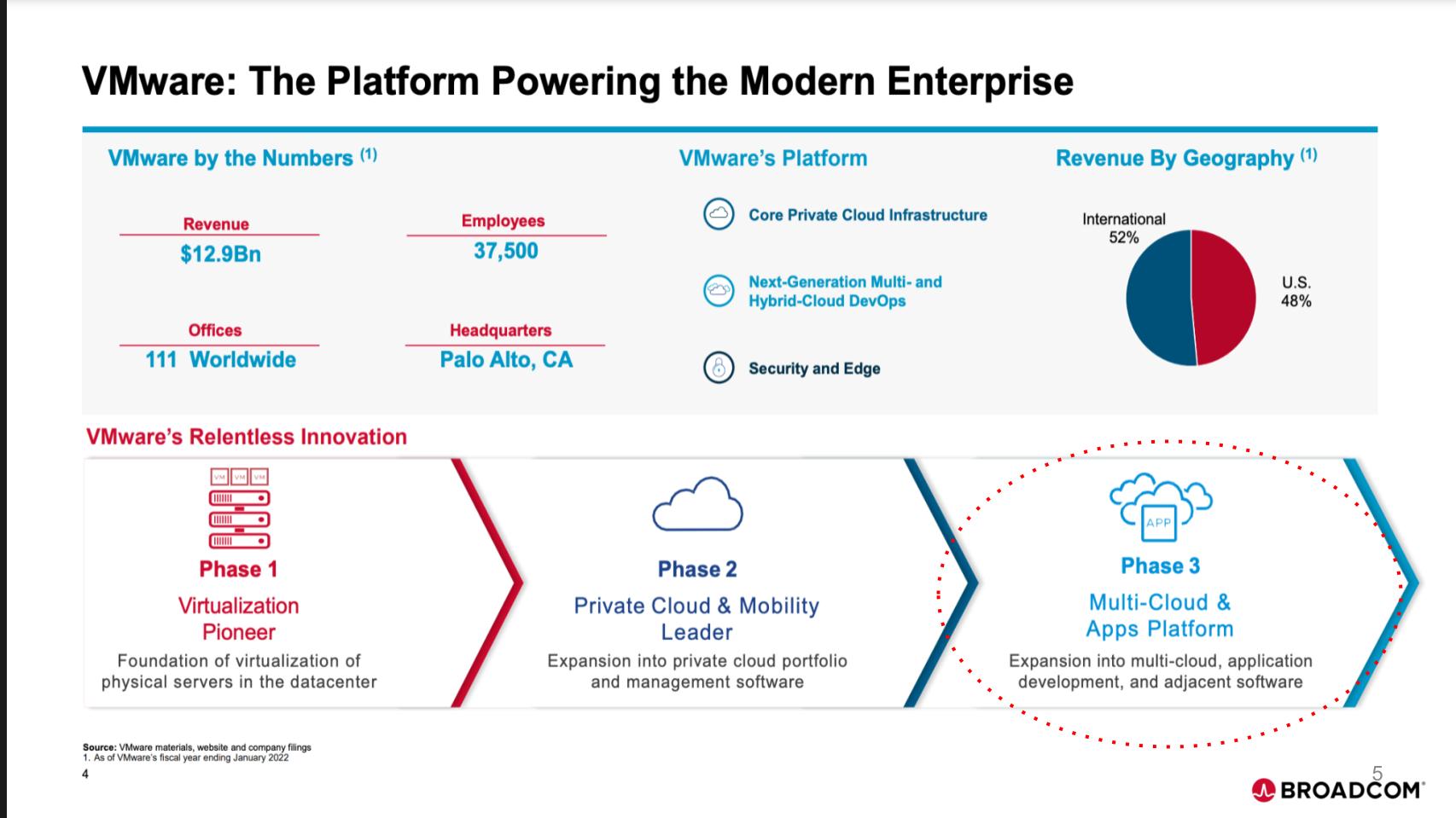 In the following section we assess the degree to which multicloud complexity is a real problem and what VMware's advantages are in the market.
Ecosystem play for VMware:

Focus on multicloud: VMware in our view must refine its understanding of multicloud and identify how it can stand out in the market. There's potential in having a multicloud management stack, given the tools from major cloud providers (such as Amazon Web Services Inc., Microsoft Corp.'s Azure and Google Cloud Platform) don't interoperate.
Existing partnerships: There's significant use of VMware with other tech giants. For instance, 80% of OpenShift globally is deployed on VMware. As such, VMware's ecosystem is a critical advantage for the company.

The complexity of multicloud as an opportunity:

Need for a single cloud fabric: The rise of edge computing necessitates a unifying cloud fabric spanning multiple cloud providers, fostering competition.
Normalization: VMware's vCenter is a pivotal tool for data centers. With the advent of containers, many prefer VMware integrated containers thanks to the control offered by vCenter. This makes vCenter a potential control point for supercloud/multicloud.

Challenges and competition in multicloud:

Cloud service provider tools: Each major cloud service provider's tools are confined to their respective ecosystem, and there's little chance they'll create federated tools. This opens a significant gap in the market that VMware can fill.
Gradual erosion: While VMware's vCenter provides familiarity and standardization, cloud providers are slowly reducing the exclusive value that tools such as vCenter bring. Yet this erosion presents a win-win scenario for the industry since it means more cloud usage.
The role of cloud providers: Major cloud providers are likely indifferent to who facilitates multicloud, as their primary objective is to increase usage and sell more compute and storage.
Bottom line: VMware is well-positioned to play a critical role in the multicloud or supercloud era. However, its success hinges on how effectively the company can integrate, adapt and leverage current assets, especially vCenter, in the ever-evolving cloud landscape. The slowness of the FTC's decision on the acquisition is not helpful to accelerating customer value and competition.
How viable is the rationale that VMware creates competition for the hyperscalers?
Below is a graphic from ETR that puts VMware's position in context. On the vertical axis is Net Score or spending momentum. The horizontal axis represents the pervasiveness in the data set and the overlap that these platforms have in the survey of more than 1,700 IT decision makers. The red dotted line at 40% indicates a highly elevated Net Score.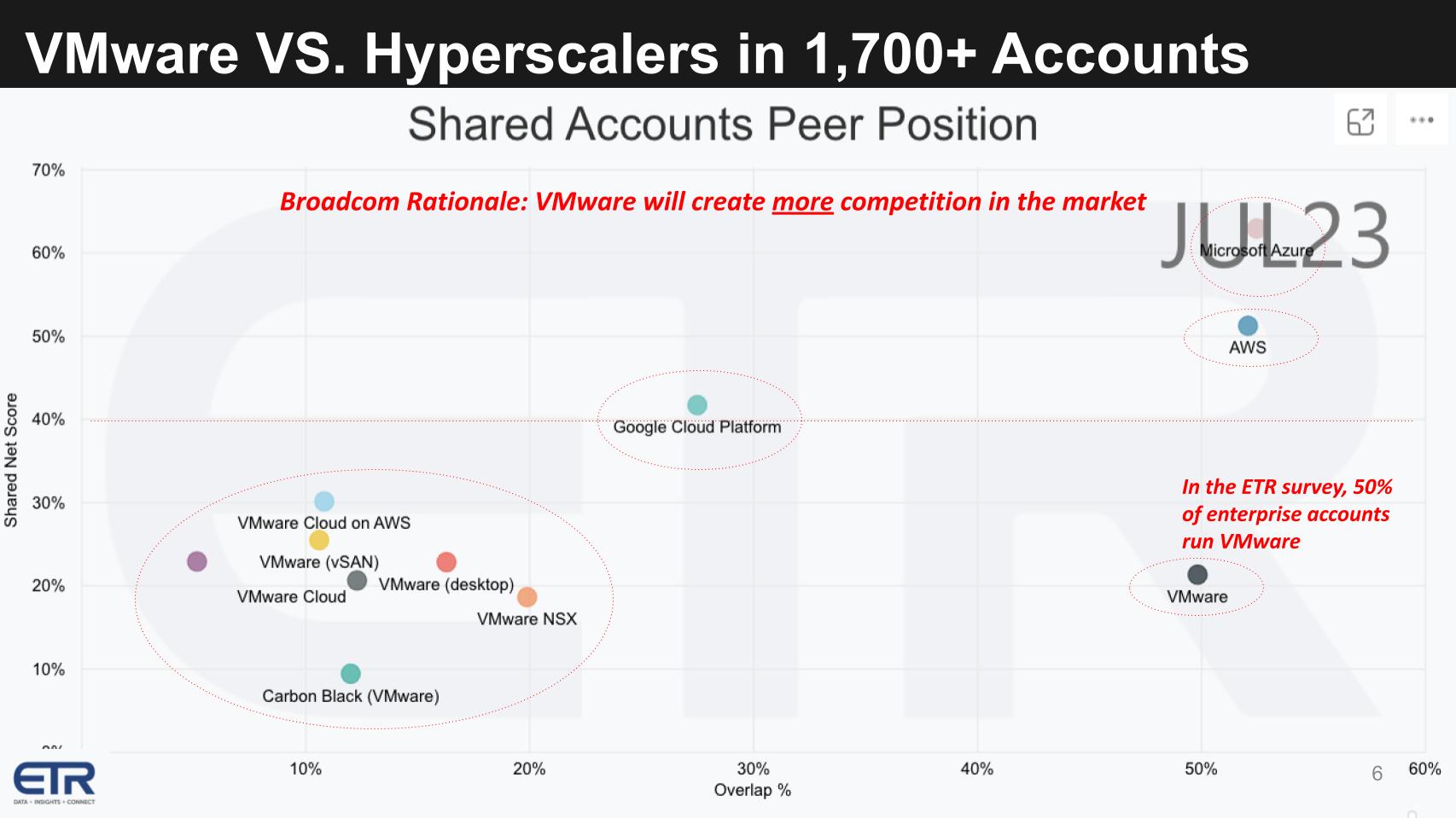 The key points are that the Big Three clouds have the momentum and Azure and that AWS has a dominant market presence. But look at VMware all the way to the right. There's a 50% overlap meaning half of the accounts cited that they are running VMware. So VMware's presence is comparable to Microsoft and AWS.
We're also showing the positions of solutions in VMware's portfolio with VMware Cloud on AWS as the most prominent on the Y axis. And you can see the others.
What follows is a summary of the analyst discussion including the position of VMware relative to the hyperscalers and the utility of the balance of VMware's portfolio – for example, vSAN, NSX, VCF, Carbon Black and others.
Cloud provider lock-in:

Hotel California scenario: Once customers choose a cloud provider, or hyperscaler, they find it challenging to switch due to various complexities and costs involved.
Potential VMware solution: If VMware can successfully abstract and normalize the different cloud providers, it could promote competition by allowing easier data migration between platforms such as AWS and Azure. This would mitigate the lock-in effect currently experienced by customers.

Exploring VMware's portfolio and partnerships:

Feedback and perception: VMware has a broad product portfolio, including tools such as vSAN, NSX, VCF and Carbon Black. Some of these may be candidates for asset de-levering. Regardless, VMware has strong partnerships, with more than 3,000 managed service providers building on its stack. This includes major players such as OVH, VMware's former cloud play. These relationships in our view are absolutely competitive with hyperscale clouds and represent an attractive opportunity to differentiate based around issues related to latency and legal compliance.

Competitive advantage:

Creating moats: VMware is seemingly creating a competitive edge or "moat" in the container market. They are focusing on storage with vSAN and making it essential to integrate with their Container Storage Integration or CSI module when using storage through Tanzu. As it stands, VMware's CSI driver is necessary for those containers.
Historical limitations: Previously, EMC had restrained VMware, particularly in its aggressive deployment of vSAN. VMware's now has more latitude to drive storage growth.

Ecosystem expansion:

Extending VMware partnerships: We believe VMware has an opportunity to expand its ecosystem particularly into the data stack. We'll address this later in the research.
FTC's misunderstanding: The FTC seemingly has gaps in its understanding of how VMware operates in the cloud marketplace and competes with other giants.
Bottom line: VMware's potential to reshape the multicloud landscape is evident, especially with its tools and partnerships. However, its success hinges on strategic decisions, especially regarding its product portfolio and partnerships, and understanding and adapting to regulatory landscapes.
What is VMware's AI play?
Our observations suggest that Hock Tan is not a big hype guy. He doesn't make decisions based on market chatter. So when he's asked about AI, he most certainly doesn't AI-wash. He looks at AI as just another workload and something that will make infrastructure run better. But if VMware is going to be a platform for app development, it will have to unveil its AI strategy at VMware Explore.
Let's look at how VMware stacks up against the hyperscalers in AI accounts.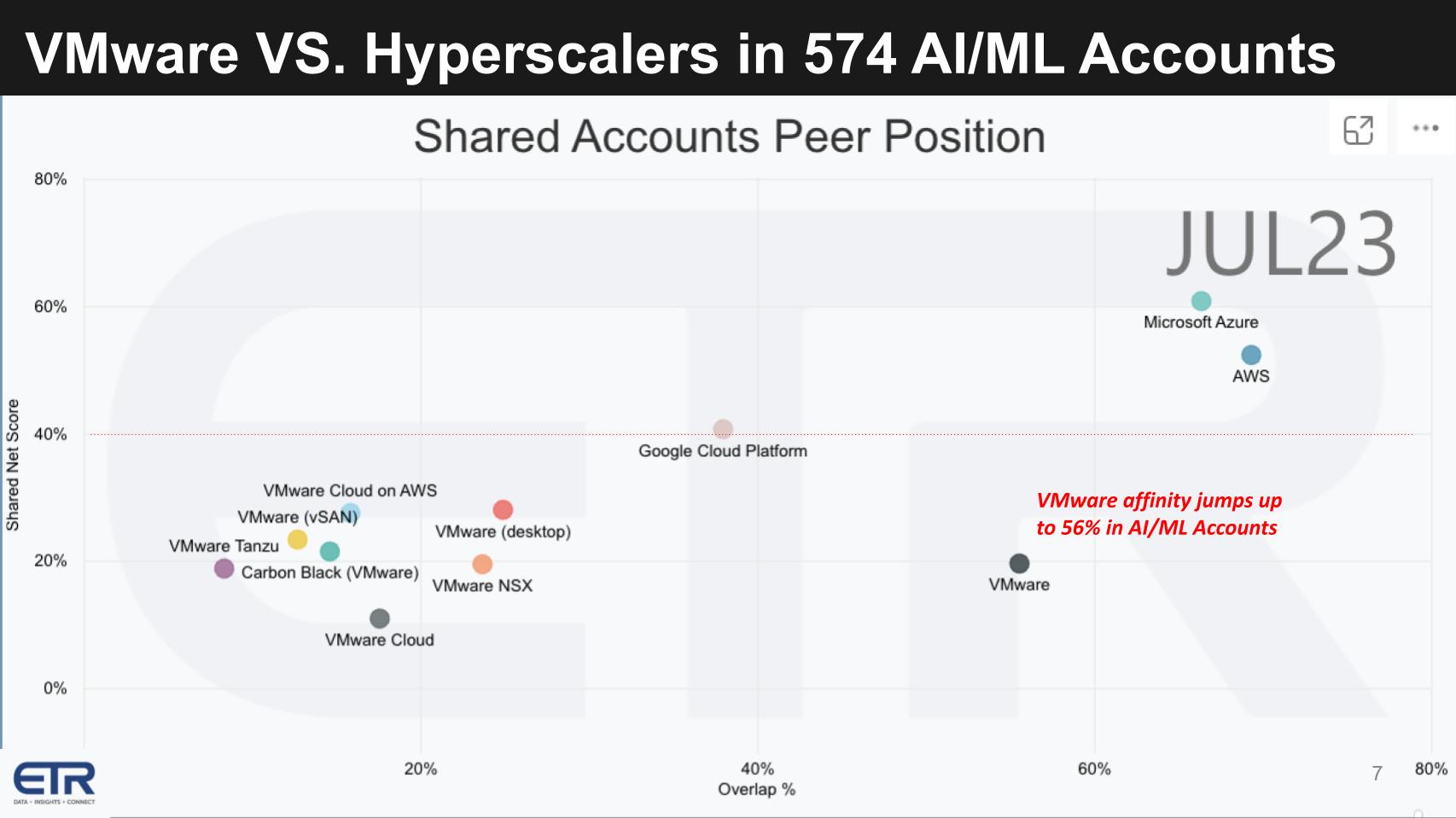 The chart above has the same XY – spending velocity and market presence and the same platform comparisons. The difference is the data is filtered on 574 AI accounts in the ETR data set. There are two interesting points in the data that stand out:
VMware affinity in AI accounts jumps from 50% in the overall market to 56% overlap in these AI accounts.
But the public cloud players' position in terms of market presence is even stronger.
In last week's Breaking Analysis, we laid out the case for on-prem versus public clouds in terms of where customers will run large language models. And the conclusion was that the cloud players had a clear lead in terms of innovation, optionality and functionality… but the incumbent on-prem players have the advantage of customers wanting more control given the fear, uncertainty and doubt around intellectual property leakage, legal and related risks. And edge is a latency game that is wide open.
Here's our analysis and summary of the challenges and potential of incorporating AI in on-premises solutions and how it could shape the future of VMware and the broader IT landscape.
Building an AI platform:

Limitations: Constructing a complete AI platform from scratch is complex. While collaborating with Broadcom may facilitate part of this endeavor, it doesn't provide a holistic solution. AI, especially when implemented on-prem, requires a comprehensive integration of multiple components.

AI impact on network spend:

Recent trends: Cisco's latest earnings call revealed an increase in network spending, some of it driven by AI. This suggests that AI implementations will prompt organizations to bolster their network infrastructure.
AI's evolving role: AI's role is projected to transition from being an occasional specialized requirement to a regular operational necessity. This shift might trigger a vast overhaul or refresh in customer technology portfolios

VMware's position in the AI landscape is strong but lacks a data play:

Technological capability: VMware possesses much of the requisite technology to assemble an AI-centric data center stack. Its position in data, however, is weak.
Partnerships: Although VMware has a strong partner network, there seem to be gaps, particularly in the data domain and up the stack software. VMware Explore might shed light on how the company plans to bolster its partnerships to offer AI in a more streamlined manner.

Ecosystem's role:

Predictions for AI uptake: We expect a surge in AI adoption toward the end of the year. However, this isn't anticipated to be solely because of direct AI applications, but thanks to associated requirements such as enhanced compute and storage capabilities.
Bottom line: AI is increasingly influencing the IT landscape, with ramifications on spending patterns and technology adoption. Although VMware seems poised to leverage this trend, the success might hinge on how effectively they can address software gaps and fortify data partnerships to provide more competitive AI solutions.
AI players in VMware accounts
One of the things we hear from developers is that they really like the innovation in the public cloud. They especially point to the optionality of AI. For example, having access to foundation models in a repo such as Bedrock on Amazon is appealing. And we're seeing the striking ascendency of OpenAI adoption. The chart shows the Net Score and presence of AI platforms within a filter of 886 VMware accounts. It gives us an indication of which tools are popular in those accounts and presumably represents some of the partners that VMware should target.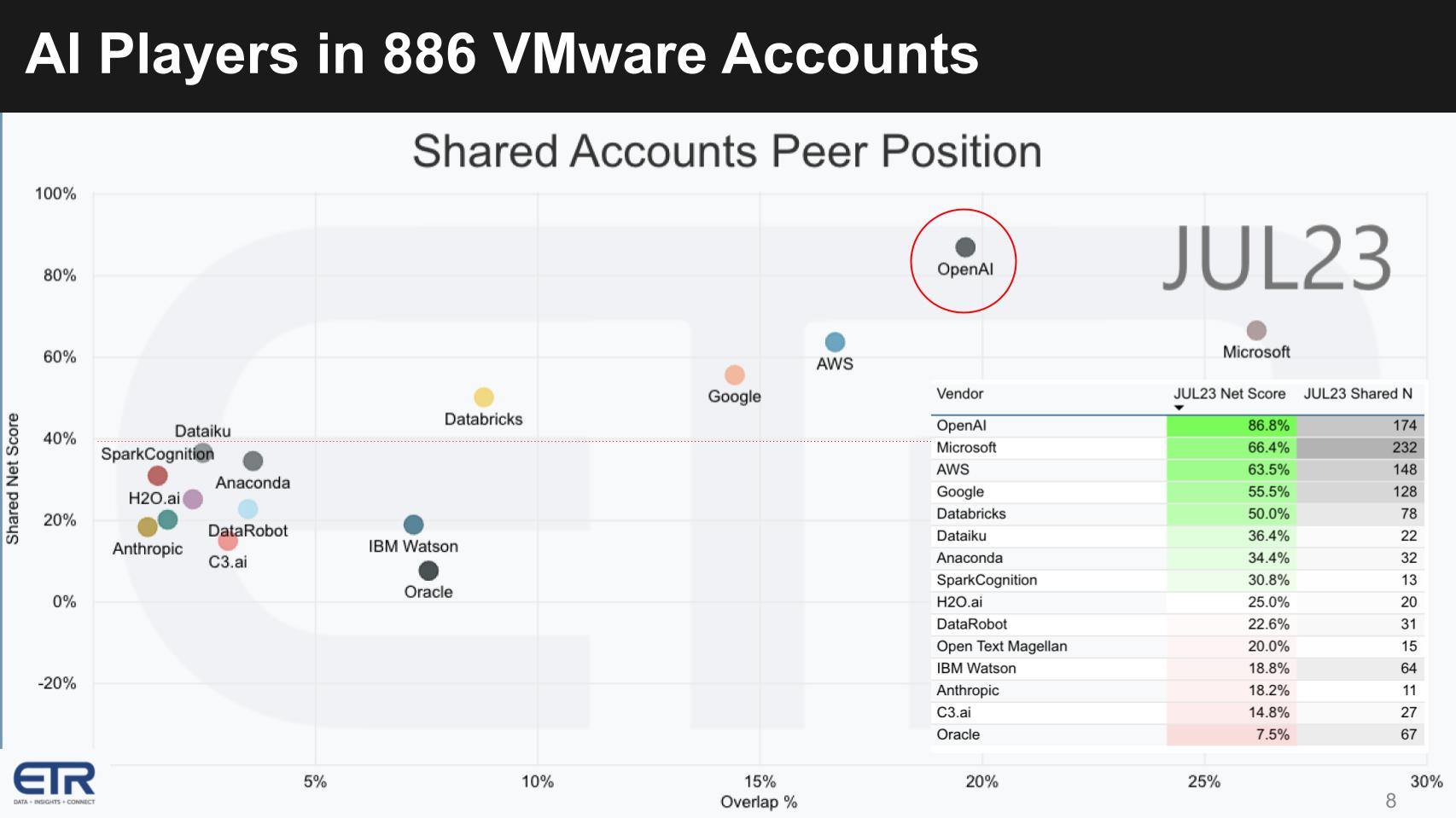 First, look at OpenAI: It has overtaken all vendors in the ETR data set across the board in terms of spending velocity with an 87% Net Score – and a very high N – second only to Microsoft, which is its biggest partner.
The hyperscalers are prominent as well and VMware partners with each of them. You can see the other players such as Databricks Inc., Dataiku Inc., Anaconda Inc., SparkCognition Inc. and the like.
But when we think about VMware's ecosystem we think first about Dell Technologies Inc., Hewlett Packard Enterprise Co., IBM Corp., NetApp Inc., Pure Storage Inc., Veeam Inc. and many others that are lower in the stack. The hyperscalers are also strong partners of VMware because of VMware's massive presence in the market.
But you don't typically think of these AI names shown above. The question we debated is: How does VMware become relevant in AI? And what are the challenges and prospects related to developing a full-fledged AI infrastructure?
AI infrastructure challenges:

Incomplete stack: Although companies can potentially develop the base AI infrastructure using VMware and ecosystem tools, they face challenges when trying to utilize it effectively. Specifically, though the lower-level infrastructure can be managed, gaps exist in higher-level tooling and data platform offerings.
VMware moves: Can VMware better leverage open-source solutions such as Spark or Delta Lake from Databricks within a VMware setting, and how that would be managed?

Role of networking in AI:

Connect-centric shift: With the evolution of technology, there's a shift from a compute-centric to a connect-centric environment, emphasizing the importance of networking. This is fundamental to Broadcom's offerings and a key component of the company's success where it focuses on connectivity rather than trying to compete in CPUs.
Embedded networking: There's a consensus that networking should be an integral part of the AI infrastructure from the beginning, as retrofitting can be challenging. Newer networking solutions such as Ultra Ethernet can complement existing platforms such as InfiniBand, and VMware can take advantage.

VMware's AI strategy:

Ecosystem dependence: Historically, many players in the tech ecosystem have depended on VMware thanks to its dominant presence. However, in the AI sector, VMware lacks that commanding position. To establish a foothold, VMware must proactively engage and collaborate to create a robust AI ecosystem.
On-premises advantage: If AI frameworks such as Databricks opt to run on-premises, VMware could emerge as a vital ally. However, there's a need to streamline these integrations, possibly through managed services.
Sovereign cloud opportunity: With the advent of many smaller, specialized clouds, VMware can position itself as a supercloud, providing an alternative to the major players such as AWS, Google and Azure.

Ecosystem's desire for alternatives:

The tech ecosystem seeks alternatives to dominant cloud providers such as AWS. There's an apparent need for competition in the sector to avoid monopolistic tendencies and to cater to diverse requirements.
Bottom line: As AI becomes increasingly integral to the IT landscape, challenges and opportunities arise in equal measure. For companies such as VMware, strategic partnerships, leveraging open-source solutions and emphasizing networking can pave the way for a stronger AI presence. The tech ecosystem also seems ripe for diversification, potentially favoring entities that can offer competitive alternatives to industry giants.
Expectations for VMware Explore
Let's close with some expectations for VMware Explore next week.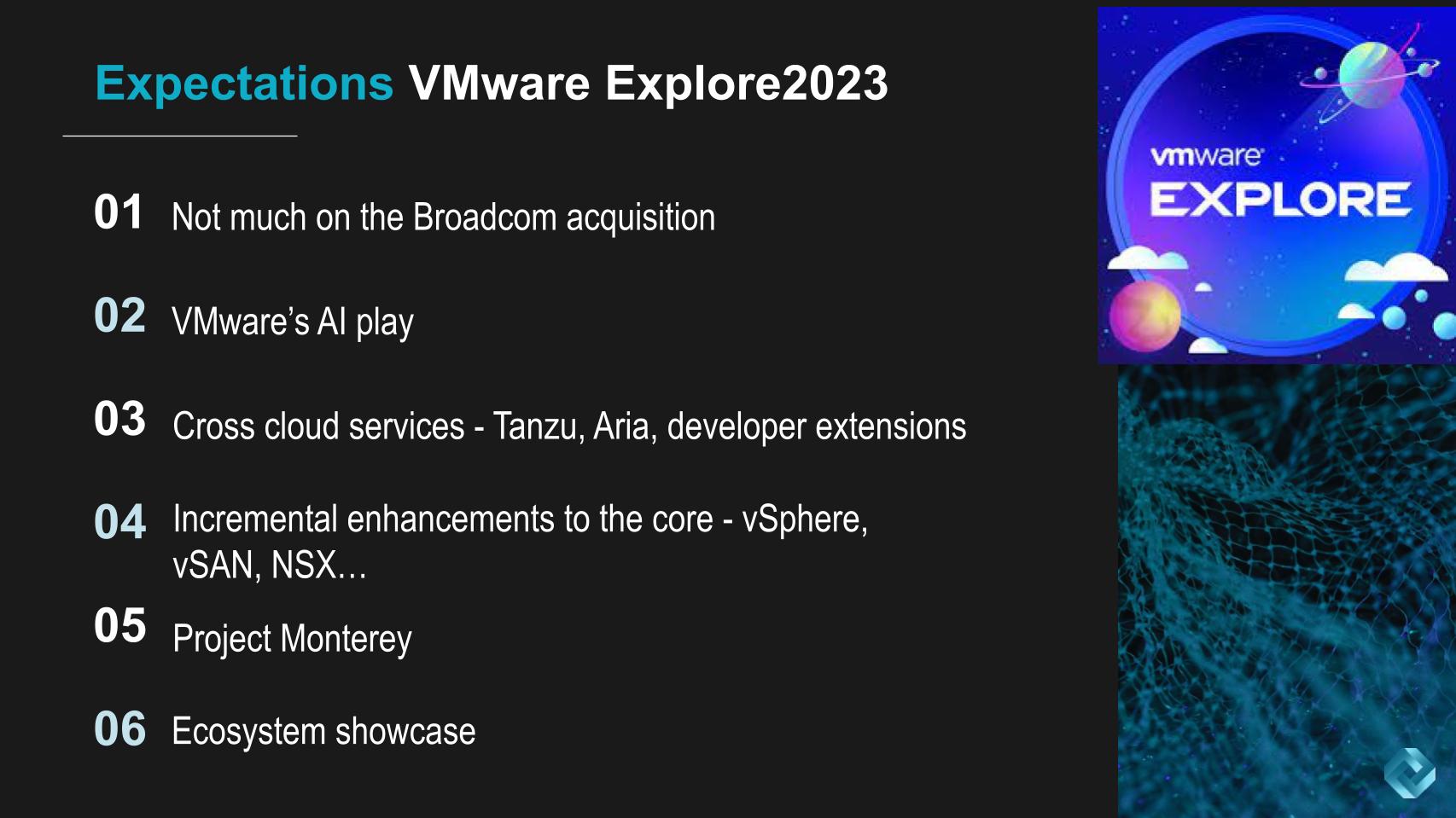 We don't expect to hear much on the Broadcom acquisition, but we definitely expect to hear more about VMware's AI play. It's compulsory in any tech event these days. We'll also hear about VMware's cross cloud services and related product extensions around Tanzu, Aria and other developer projects. And it's likely we'll hear many incremental enhancements to the core – for example vSphere, vSAN, NSX and the like. We'll be listening for any updates on Project Monterey and of course the ecosystem showcase.
Here's a summary of the analyst discussion on these topics.
Keep in touch
Many thanks to Alex Myerson and Ken Shifman on production, podcasts and media workflows for Breaking Analysis. Special thanks to Kristen Martin and Cheryl Knight, who help us keep our community informed and get the word out, and to Rob Hof, our editor in chief at SiliconANGLE.
Remember we publish each week on Wikibon and SiliconANGLE. These episodes are all available as podcasts wherever you listen.
Email david.vellante@siliconangle.com, DM @dvellante on Twitter and comment on our LinkedIn posts.
Also, check out this ETR Tutorial we created, which explains the spending methodology in more detail. Note: ETR is a separate company from Wikibon and SiliconANGLE. If you would like to cite or republish any of the company's data, or inquire about its services, please contact ETR at legal@etr.ai.
Here's the full video analysis:
All statements made regarding companies or securities are strictly beliefs, points of view and opinions held by SiliconANGLE Media, Enterprise Technology Research, other guests on theCUBE and guest writers. Such statements are not recommendations by these individuals to buy, sell or hold any security. The content presented does not constitute investment advice and should not be used as the basis for any investment decision. You and only you are responsible for your investment decisions.
Disclosure: Many of the companies cited in Breaking Analysis are sponsors of theCUBE and/or clients of Wikibon. None of these firms or other companies have any editorial control over or advanced viewing of what's published in Breaking Analysis.
Image: mehaniq41/Adobe Stock
---
Your vote of support is important to us and it helps us keep the content FREE.
One-click below supports our mission to provide free, deep and relevant content.  
Join our community on YouTube
Join the community that includes more than 15,000 #CubeAlumni experts, including Amazon.com CEO Andy Jassy, Dell Technologies founder and CEO Michael Dell, Intel CEO Pat Gelsinger and many more luminaries and experts.
THANK YOU